Welcome to Tynedale Golf Club!
A pleasant, picturesque 9 hole parkland golf course on the banks of the River Tyne situated in the Tyne Green Country Park, Hexham, Northumberland. Suitable for all handicaps, a gently undulating, almost flat, tree lined course always proves a very good test for golfers, young and old.
WINTER MEMBERSHIP OFFER 2023-24
❄️

CALLING ALL WINTER GOLFERS

❄️
🏌️‍♂️ We have noticed a uptake in our visitor fees during these wet colder months, we understand a lot of courses in the area have had to close due to the unreal amount of rain we have had these last few months.
⛳️ At Tynedale we have only had to close the course a couple of days, our course drains remarkably well we can say for sure that there is't an inland course as dry as ours during these winter months.
🪙 We would like to extend an offer of £90 for as much golf as you would like during the winter season (runs until 31st March '24), this would also allow players with valid handicaps to compete in our winter league (only 2 weeks missed, best 10 cards count over the winter season).
☔️ This is a perfect deal for people wanting to get back into golf, or players looking for a winter club to hone their skills when the weather get gnarly.
☕️ This membership also includes a 10% discount at the bar for all your drinks and snacks 🍺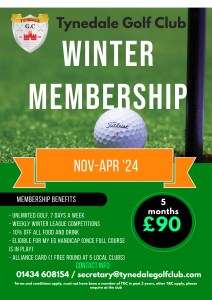 TGC Winter member ——- APPLICATION FORM HERE